Top Activities in Homer, Alaska
The Kenai Peninsula and Homer, Alaska offer a beautiful and rugged landscape for outdoor adventure and exploration. Discover a destination of ocean, wilderness, forest, mountains, glaciers, and volcanoes that call out to your sense of wanderlust. Go fishing or kayaking in Kachemak Bay, enjoy clamming along the beaches, explore miles of hiking and cross-country ski trails, or embark on a bear watching excursion. The charming and funky village of Homer also offers an eclectic art, food, museums and music scene, so there's always fun things to do in Homer, Alaska, any time of year.
Fishing Trips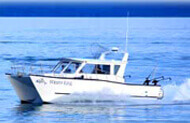 Halibut and salmon fishing are a must in Homer, Alaska. Known as the "Halibut Fishing Capital of the World," Homer and cold waters of Kachemak Bay and Cook Inlet offer the ultimate fishing adventure. Homer offers several charter fishing companies and boat captains that will take you to the best spots, including the Homer Spit, where you can surf cast from the beaches. Head out to the Nick Dudiak Fishing Lagoon on the Spit, stocked with king and silver salmon. Homer is also home to the Homer Jackpot Halibut Derby and Homer's Winter King Salmon Tournament in March. Alaskan Suites has teamed up with the top fishing charter services to offer you the best fishing and lodging packages in Homer.
---
Clamming
Clamming on the Kenai Peninsula in Alaska is a popular activity. The beaches from just north of Homer to the Kasilof River mouth are home to one of only eight major concentrations of razor clams on the Pacific Coast. Bob's Piscatorial Pursuits offers guided clamming trips. as well as fishing trips for Pacific Northwest salmon, steelhead, and halibut.
Bear Viewing Adventures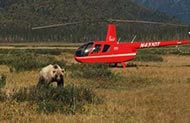 We can connect you with tours that offer the Ultimate bear-viewing adventure.
Photography
Homer Alaska is a Photographer's dream location with incredible views of Kachemak Bay and the Kenai Mountains. Hillsides of blooming fireweed make for perfect backdrops for wandering moose. Head down to the Homer Spit and you may catch a glimpse of a sea otter lazily floating by the boats and bustling docks munching on some mollusks. Homer also has many trails to find some of Alaska's other furry residents where you can get that perfect shot with a backdrop of the beautiful Kenai Peninsula scenery.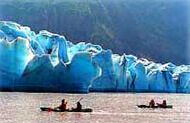 ---
Kayaking
Surrounded by Kachemak Bay, Homer offers many amazing kayaking spots within minutes of your lodging at Alaskan Suites. Venture out on your own or enjoy guided tours to gentle coves, around the small Cohen, Hesketh and Yukon Islands, and even to the glaciers. Many Homer kayaking outfitters offer eco-tours that are educational and fun. We can drop a few names or set the reservations up for you. No experience necessary.
Hunting
Homer offers several hunting charters that offer the finest in vessel based hunts for Sitka Blacktail Deer and for Black Bear, along with Sea Duck hunting. Many hunts are conducted off the charter's large boats, so you can also fish during your adventure. Hunts often include the use of a rifle, hand gun, or archery.
Skiing, Sledding & Snowmobiling
Enjoy exciting winter activities in Homer, Alaska, including cross-country skiing, snowshoeing, sledding, and snowmobiling. You'll find a cross-country ski trail head within steps of your cabin at Alaskan Suites.
---
Volcanoes
There are several jaw-dropping volcanoes around Homer, Alaska, part of the Ring of Fire, that you can see in the distance from Alaskan Suites.
Augustine – You can see this 4,025-foot-tall island volcano from your cabin. Augustine has the usual triangular look of a volcano and is hard to miss.
Mt. Douglas – A little farther out from Augustine and to the left, Douglas is a beautiful 7,000-foot volcano covered with glaciers, which gives it a white misty look. Historically inactive, it has shown recent signs of activity.
Illiamna– Part of the Aleutian range, this volcano has four peaks, reaches 10,016 feet high and has 10 glaciers that radiate from the summit. Walk to the salt water hot tub and look to your right. Illiamna stands out against the summer sunset.
Redoubt – Rising 10,197 feet, this massive volcano in the Aleutian range – right next to Illiamna – is heavily covered by glaciers. The most recent eruption was 1989-90 and eruptions caused air traffic delays through South Central Alaska
---
Art Galleries
Discover one of America's best small art towns. Homer is one of the most active art communities in Alaska. Many local, regional and nationally-recognized artists live and work in Homer and create art in a wide variety of media, from painting to photography. Check out the map of Homer art galleries.
Wineries and Breweries
Homer is home to a vibrant brewing and wine-making community, including the Homer Brewing Company, Grace Ridge Brewing and the Bear Creek Winery. The winery makes hand-crafted wines made from grapes and berries that are grown, picked, and processed in Homer. Visit the wine tasting room, tour the facility, walk through the gardens, and take in breathtaking views of Kachemak Bay.
Shopping
Enjoy a shopping adventure on Homer Spit, in downtown Homer and in the center of town. What you'll find are a mix of stores, art galleries, fresh fish markets, and Alaskan craft shops where you can buy items made of the walrus tusk, the hide of a bear, the antler of an elk, or the teeth of a whale. You can buy items made of walrus tusk, bear hide, elk antler or whale teeth also known as baleen.
---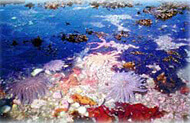 Adventures Around Kachemak Bay
Thanks to Homer's mild climate, adventurers can enjoy hiking across glaciers and snow fields, cross-country skiing, beach combing and tide pooling. Explore more than 80 miles of trails that wind through Kachemak Bay State Park, filled with mountains, tundra, fjords, bays, lakes and forests. See wildlife that includes black and brown bears, moose, mountain goats, wolverines and lynx. The magnificent and diverse terrain around Kachemak Bay and Homer is perfect for photography buffs.
Hiking and Nature Walks
Homer offers many scenic hiking and walking trails, including Kachemak Bay State Park and the Homer Spit. There are also many hiking spots at nearby Halibut Cove, where you can see an amazing number of birds at Gull Island. Here are some of our favorite Homer hiking destinations: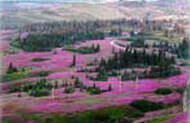 Homestead Trail – This 6 mile route starts at Roger's Loop, just a block away from Alaskan Suites. Songbirds, moose and wildlife inhabit the area. Tunnels along the way through alders identify the historic homesteader's route along the ridge. By taking a beach walk you can take the same route Homer's pioneers used to get to Anchor Point and beyond. You will pass a sea bird rookery only three miles out. From another point, out three miles towards the bay, you have beautiful glacier views to compliment your hiking scenery.
Calvin & Coyle Trail – Explore 126 acres with several trails, including a wheel chair accessible trail and a 30-acre refuge sight. Hike through the meadow in spring and see it teeming with wildflowers.
Kachemak Bay State Park – Hike through more than 368,000 acres of glaciers, alpine tundra, forests, fjords, bays and high country lakes. The park offers miles of hiking trails from Glacier Spit to Poot Peak. A daily Ferry Service from Homer carries visitors to the trail heads. The beaches offer kayaking, tide pooling, clamming and beach combing.
Center for Alaskan Coastal Studies – Connect with the outdoors through guided walks, tours, overnights, and education programs. The Center fosters responsible interaction with the marine and coastal ecosystems of Kachemak Bay through science-based environmental education and stewardship. Popular hikes include the Guided Natural History Hiking Tour, Guided Natural History & Kayaking Tour, Overnight Yurt Stays, and Creatures of the Dock Tour at the CACS Yurt on the Spit.
---
Homer Water Taxis
If you need transportation, there are many water taxis in Homer to get you to the all the fun activities you have planned. Let us know your water taxi needs and we will connect you with a service.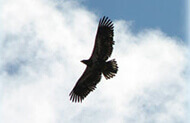 Wildlife Viewing
While sitting on your private porch at Alaskan Suites, keep your eyes open for moose, bears, eagles, seals and whales. Relax on the porch or in the salt water hot tub and see eagles soaring through the blue skies above.