A Cozy Getaway Guide
Planning a vacation can be both exciting and challenging, especially when deciding on suitable accommodations. While hotels have traditionally been a go-to choice for many travelers, cabin rentals are becoming increasingly popular for those seeking a refreshing alternative. The benefits of cabin rentals make it an ideal option for a memorable and comfortable getaway.
One of the primary advantages of our cabin rentals is the privacy and comfort they provide. Cabins are often situated just a little bit out of town, allowing vacationers to enjoy serenity and relaxation in nature's embrace without being too far out of touch. This is especially valuable for families who wish to spend quality time together without interruptions or distractions from other tourists or hotel guests.
Another benefit of renting one of our cabins is the variety of styles and sizes available, catering to diverse preferences and budgets. From intimate studio styles that sleep up to four to our family cabin that sleeps up to six, travelers can find the perfect fit for their group, be it a romantic getaway or a large family reunion. This flexibility, combined with the undeniable charm and character of cabin rentals, contributes to their growing appeal as a preferred vacation accommodation.
Top Benefits of Cabin Rentals
Privacy and Seclusion
One significant benefit of renting one of our cabins is the privacy and seclusion it provides. Cabins are often located in quiet, secluded areas away from the noise and crowds of urban environments. This allows guests to enjoy a peaceful and relaxing vacation with their loved ones without the disturbances encountered at hotels or other types of accommodations.
Access to Beautiful Scenery
Cabin rentals often immerse guests in stunning landscapes, surrounded by nature's beauty. Whether nestled in magnificent forests or perched with amazing views of mountains or lakes, renting a cabin grants you access to these picturesque settings right on your doorstep, adding a unique experience to your vacation.
Access to Wildlife
The bluff we overlook is a prime soaring location for eagles and other wildlife that shun the town.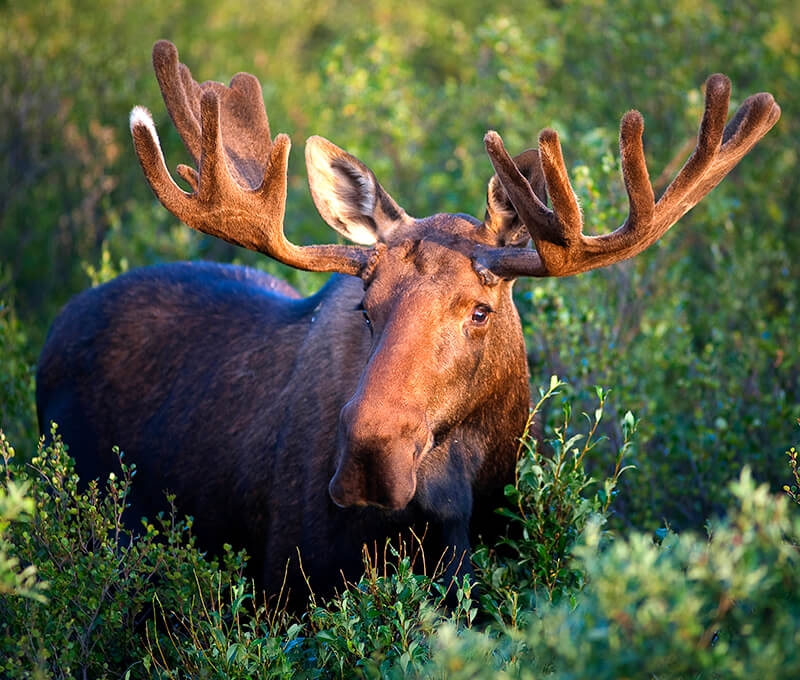 Space and Comfort
Another advantage of cabin rentals is the space and comfort they offer compared to hotels. Cabins come in various sizes and can accommodate groups of various sizes, from a cozy romantic getaway for two to large gatherings or family reunions. This extra space allows guests to unwind and enjoy their vacation without feeling cramped or confined to a single hotel room.
Our cabin rentals also include amenities such as a fully equipped kitchenette, living areas, and private outdoor spaces like decks or patios, which enhance the comfort and convenience of your stay.
Cost-Effectiveness
When vacationing with a group, the affordability of renting a cabin can be a significant advantage. For instance, large families or friends traveling together can save money by renting a single cabin instead of multiple hotel rooms. Additionally, having a fully equipped kitchenette allows guests to prepare their own meals, cutting down on dining-out expenses.
Overall, cabin rentals offer various benefits that make them an attractive option for those seeking a unique, peaceful, and cost-effective vacation experience.
Essential Alaskan Suites Cabin Rental Features
Renting one of our cabins provides numerous benefits for travelers, including privacy, comfort, and a unique vacation experience. To fully enjoy these benefits, it's essential to look for key features that will ensure a memorable and hassle-free stay.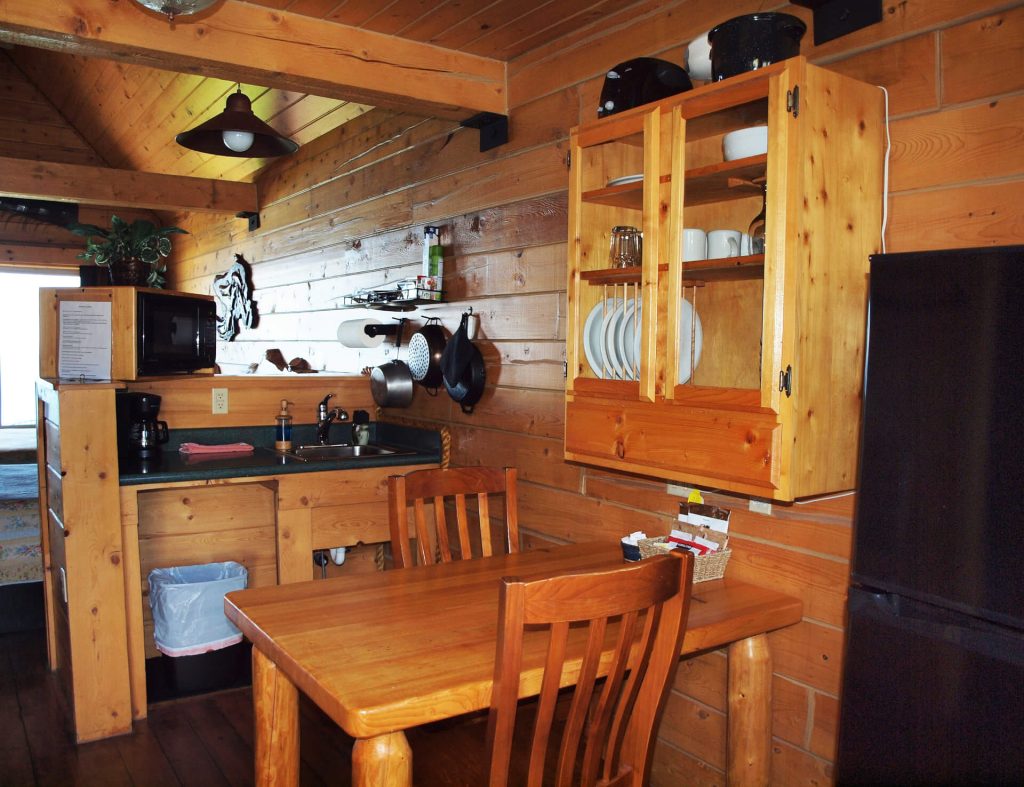 Fully Equipped Kitchenettes
One of the main advantages is having access to a fully equipped kitchenette. This feature enables visitors to cook their meals, saving money on dining out while also catering to specific dietary requirements. A well-stocked kitchenette will include:
Refrigerator
Microwave
Cooking utensils and dishes
Grill with a side burner
Coffee pot
Modern Amenities
In addition to a functional kitchenette, modern amenities play a major role in enhancing the overall experience of staying in a cabin. These amenities should reflect the cabin's type and location, including:
Wi-Fi
Entertainment options (TV, DVD player, access to streaming services)
Heating system
Outdoor grill or fire pit
Hot tub
These amenities not only provide a comfortable stay but also attract bookings and lead to returning guests (Lodgify).
Pet-Friendly Options
For many travelers, pets are considered valuable family members who also deserve a vacation. Renting a pet-friendly cabin allows guests to bring their furry friends along without worrying about finding pet care or leaving them behind.
Choosing the Right Cabin
When planning a getaway in a cabin rental, selecting the right one is crucial for an enjoyable vacation. This section will guide you through important factors to consider when picking the perfect cabin for your stay.
Determine Your Needs
Start by assessing your needs and preferences. Think about the size of your group, as our cabin rentals come in a few different sizes. List the amenities you'd like to have, such as a full kitchenette, Wi-Fi, or hot tub. Understanding your requirements will help narrow down your choices and ensure a comfortable and enjoyable stay.
Consider the Location
Location is another important aspect when choosing a cabin rental. Consider proximity to attractions and activities that interest you. Some cabins are in more remote areas, offering a tranquil getaway, while others are closer to towns, providing easy access to entertainment and shopping. Make sure to research various cabin types and popular locations in your targeted destination to find the right fit. Our cabins are close to all the activities but still outside of town.
Check Reviews and Ratings
Before booking one of our cabins, please take the time to read reviews and ratings from previous guests. This will give you insights into the quality of the accommodation, cleanliness, and any potential issues you might encounter. Look for reviews on multiple platforms, including the Alaskan Suites website and third-party booking platforms such as Expedia, Booking, etc.
Compare Prices
Lastly, compare prices of different cabin rentals that meet your criteria. Keep in mind that prices can vary depending on the season, location, and amenities. To get the best deal, consider booking during off-peak times or explore discounts and special promotions offered by cabin rental companies.
By taking these factors into account, you'll be on your way to choosing the right cabin for a memorable vacation.
Enjoying Your Stay
Alaskan Suites offers a unique vacation experience that is both relaxing and memorable. In this section, we'll discuss some of the ways you can enjoy your stay, including planning activities and excursions, taking time to relax and unwind, and creating memorable experiences with your loved ones.
Plan Activities and Excursions
One of the main advantages of staying in an Alaskan Suites cabin rental is the opportunity to explore the great outdoors. Depending on your location, you might be near a variety of recreational activities such as hiking, fishing, and kayaking. We suggest researching the area around us beforehand to find fun and exciting activities for the whole family to enjoy.
We also offer on-site amenities and activities, such as the hot tub and fire pit. Be sure to take full advantage of these facilities during your stay.
Relax and Unwind
One of the main goals for any vacation is to relax, and Alaskan Suites provide a perfect environment for doing just that. With cabins located several miles away from the hustle and bustle of city life, you can enjoy a peaceful and quiet retreat. According to a WeChalet blog, cabin rentals provide the privacy and comfort needed to truly unwind.
Take time to relax indoors and enjoy the cozy atmosphere of your cabin. Whether it's reading a book by the fireplace or watching a movie with your family, there are plenty of ways to enjoy some downtime in the comfort of your cabin rental. And for those armchair naturalists or relaxing one, sit on the back porch and watch the eagles.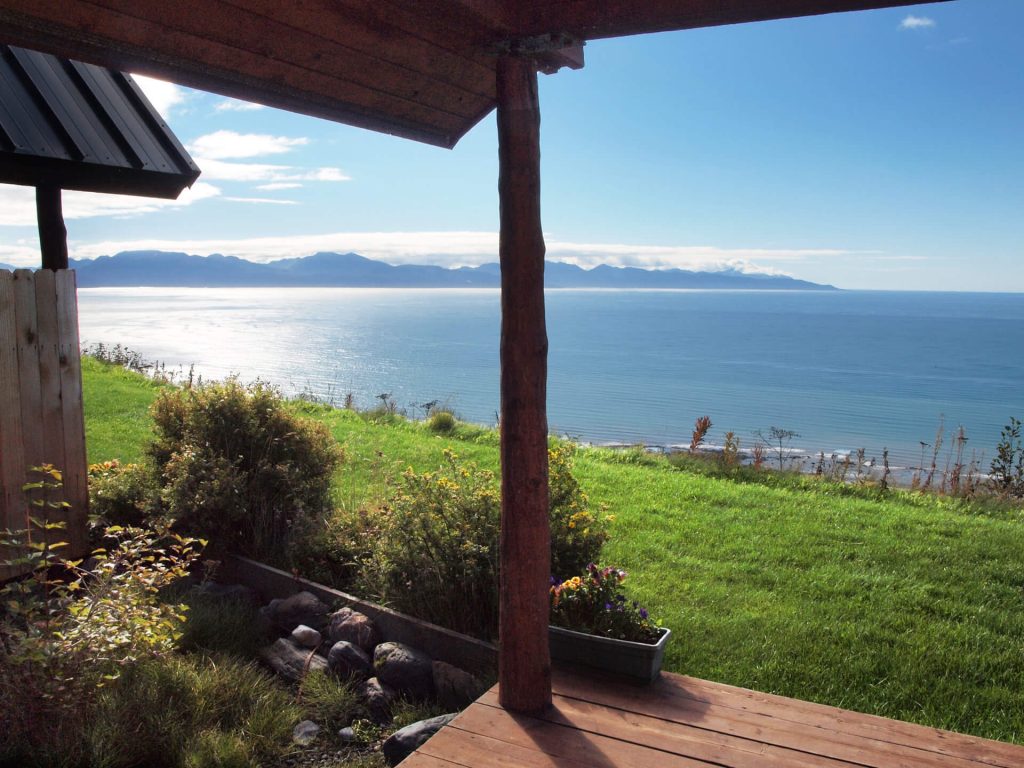 Create Memorable Experiences
The unique experiences and adventures you share in a cabin rental will stay with you for years to come, as mentioned at Just in Time Travels. Make lasting memories with loved ones by sharing stories and laughter around a campfire or participating in outdoor activities together.
Furthermore, the privacy and seclusion of one of our rentals offer the perfect setting for special occasions such as anniversaries, birthdays, and family reunions. Capture these precious moments and make your cabin rental experience an unforgettable one.
Are Cabin Rentals Better Than Hotels? We Think So!
Cabin rentals offer a unique and refreshing vacation experience compared to traditional hotel stays. With benefits such as increased privacy, immersion in nature, and the opportunity to cater to various group sizes, it's no wonder that more travelers are choosing cabins as their preferred accommodation.
Not only do cabin rentals provide picturesque views and tranquil atmospheres, but they also allow guests to escape the hustle and bustle of daily life. This peaceful environment can greatly enhance the overall vacation experience.
A cabin rental vacation can create lasting memories and foster a deeper connection with the surrounding environment. So, for those looking for a unique, satisfying, and memorable getaway, choosing a cabin rental is a great option worth considering.
We look forward to having the opportunity to host you and yours on your next adventure! Please feel free to contact us with any questions or concerns or if you wish to make a reservation! You can reach us from 10 am-7 pm daily at 907-299-7450 or anytime at info@alaskansuites.com!